CEEFIT Pulse & ECG or the use of the potential of Seaver tools at its maximum performance. 
It's been 2 months since our second generation of sensors was released. After having dedicated a first article to the presentation of the CEEFIT by Seaver, it is now the turn of CEEFIT PULSE & ECG to be revealed. 
1- The CEEFIT Pulse & ECG by Seaver: what is it and why using it? 
Our goals of enabling riders to monitor the health and maximize the performance of their horses cannot be fully achieved without CEEFIT Pulse & ECG. 
What is CEEFIT Pulse & ECG?
CEEFIT Pulse & ECG is a heart rate monitorfor horses. It allows you to measure with precision the data related to the heart rate of your horse, both during exercise and at rest. Moreover, theeffectiveness of this tool has been scientifically validatedby independent researchers from the University of Dijon.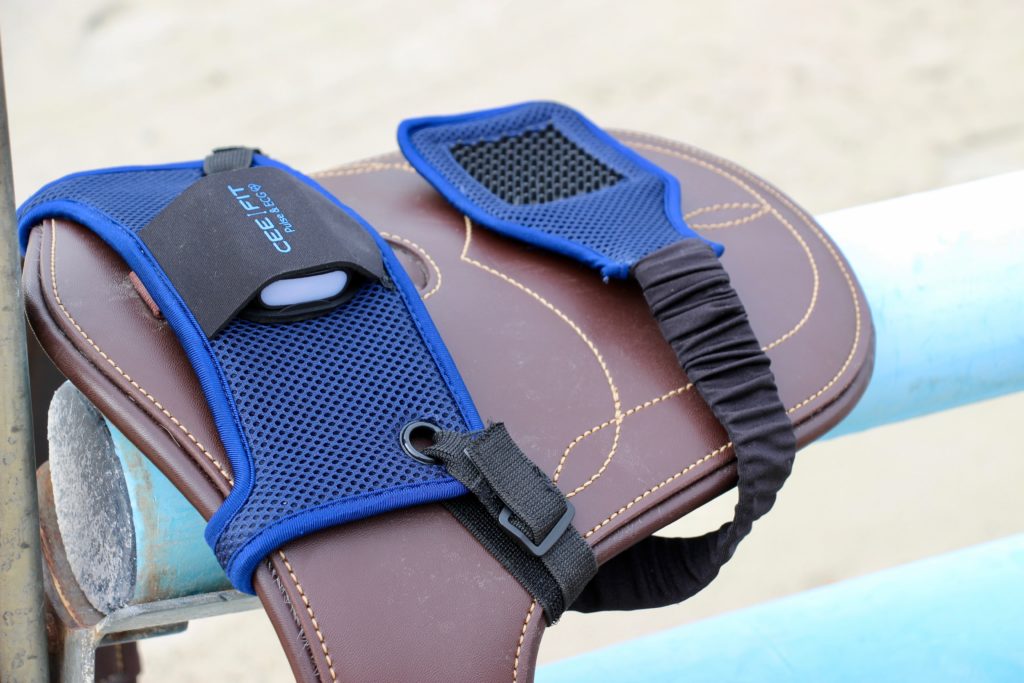 The CEEFIT Pulse & ECG can be used on all types of girths thanks to the elastic straps.
It is a heart belt composed of two electrodes, one of which is placed near the withers and the other under the strap. The latter is only used with the sensor CEEFIT which can be clipped on and off in a single movement. To save time, CEEFIT Pulse & ECG can remain attached to your strap. Only the CEEFIT needs to be removed for charging. This new tool guarantees time saving, ease of use and comfort for your horse. 
Why use a heart rate monitor during your training and competitions on horseback? 
The horse is an athlete. Its heart reveals a lot of information about theintensity of a training session or its physical condition. The study of the heart rate will allow you toadapt the workload and tooptimize the physical preparation of the horse. Moreover, this study allows you to obtain a consequent number of functionalities and consequently, a follow-up of health and performance always more precise and successful.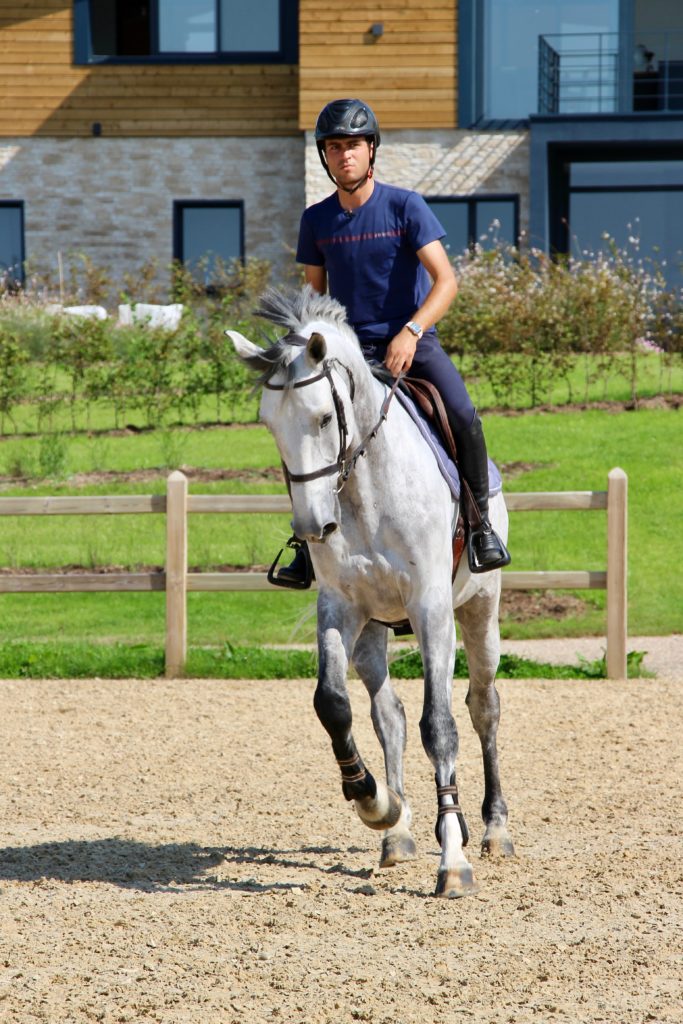 Edward Levy, show jumping rider and member of the French team uses a heart rate monitor to ensure the proper preparation of his horses. 
2- What are the features of the CEEFIT Pulse & ECG?
Since CEEFIT Pulse & ECG cannot be used without CEEFIT, you benefit from the features and data described in the article "CEEFIT, the new indispensable tool from Seaver".
The addition of CEEFIT Pulse & ECG will then allow a new dimension of understanding of your horse, the work being done and its health.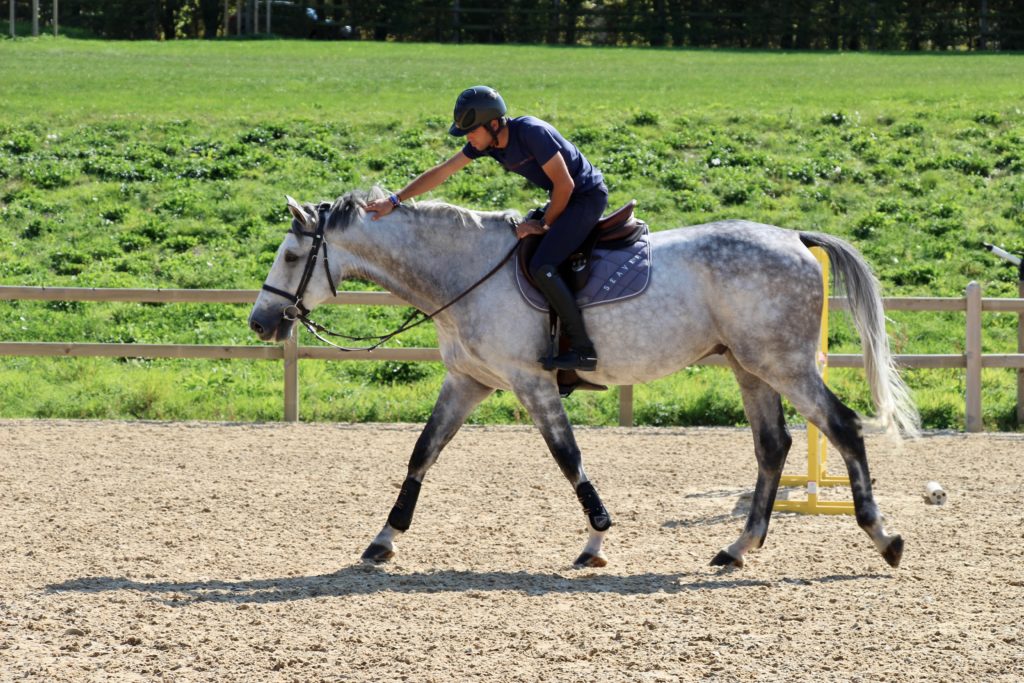 Seaver technology for a strengthened rider-horse relationship.
The heart rate belt offers you the following features the following features: 
Cardio in 5 effort zones: 
You will get the cardio of your horse in 5 effort zones based on FCMAX: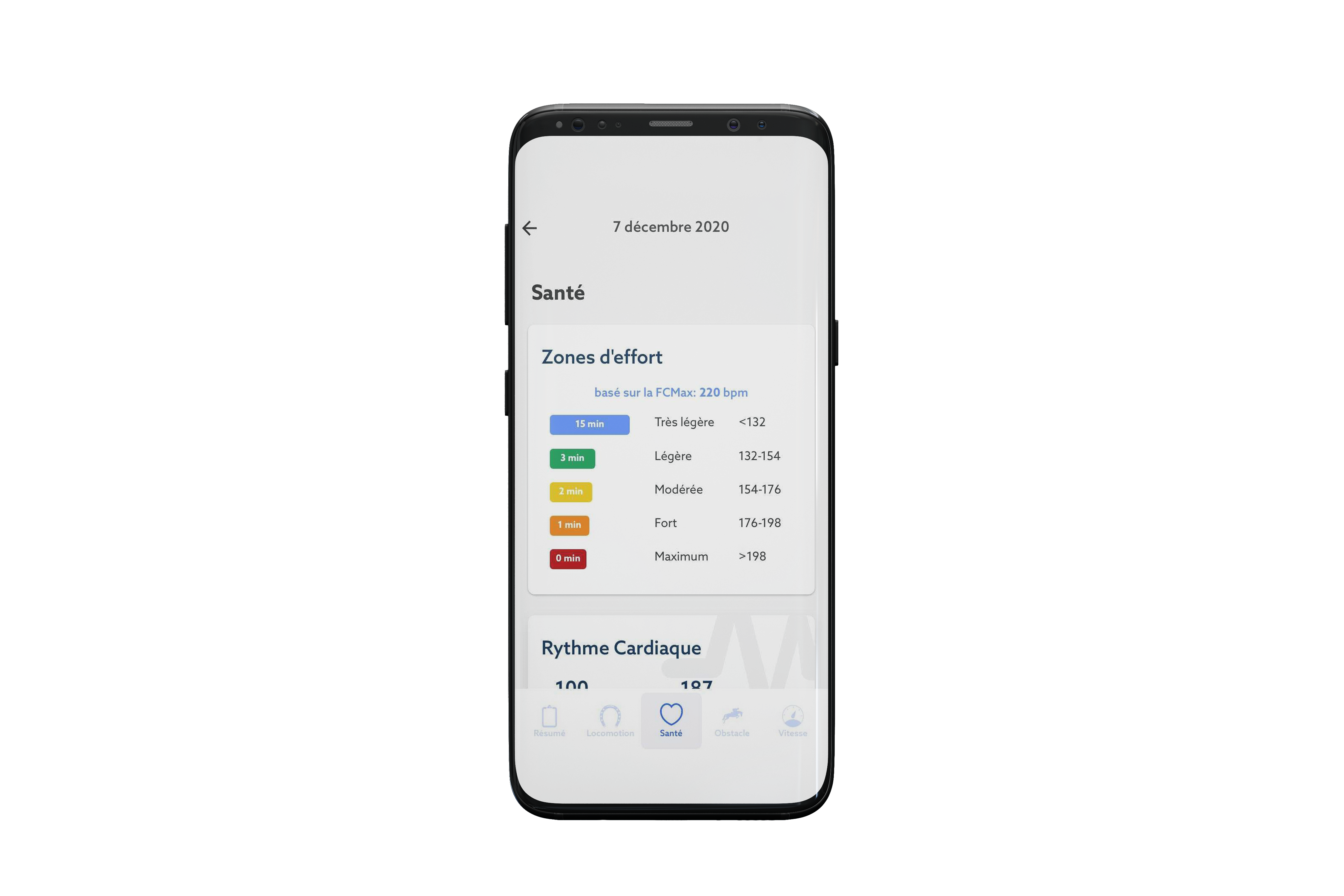 Très légère < 132
Light 132 - 154
Moderate 154 - 176
Strong 176 - 198
Maximum > 198 
The average FCMax is around 220 bpm. However, you can customize your FCMax with the help of a professional in your horse's profile. This way, you will get tailor-made effort zones. You will know the time spent in each zone and therefore the difficulty and intensity of the work required. 
Heart rate: 
Seaver also gives you the average and maximum heart rate for your session in bpm. You can also see the average heart rate by pace and a detailed graph of its evolution during your session. You also have a "merge" graph, combining the paces and the variation of the heart rate.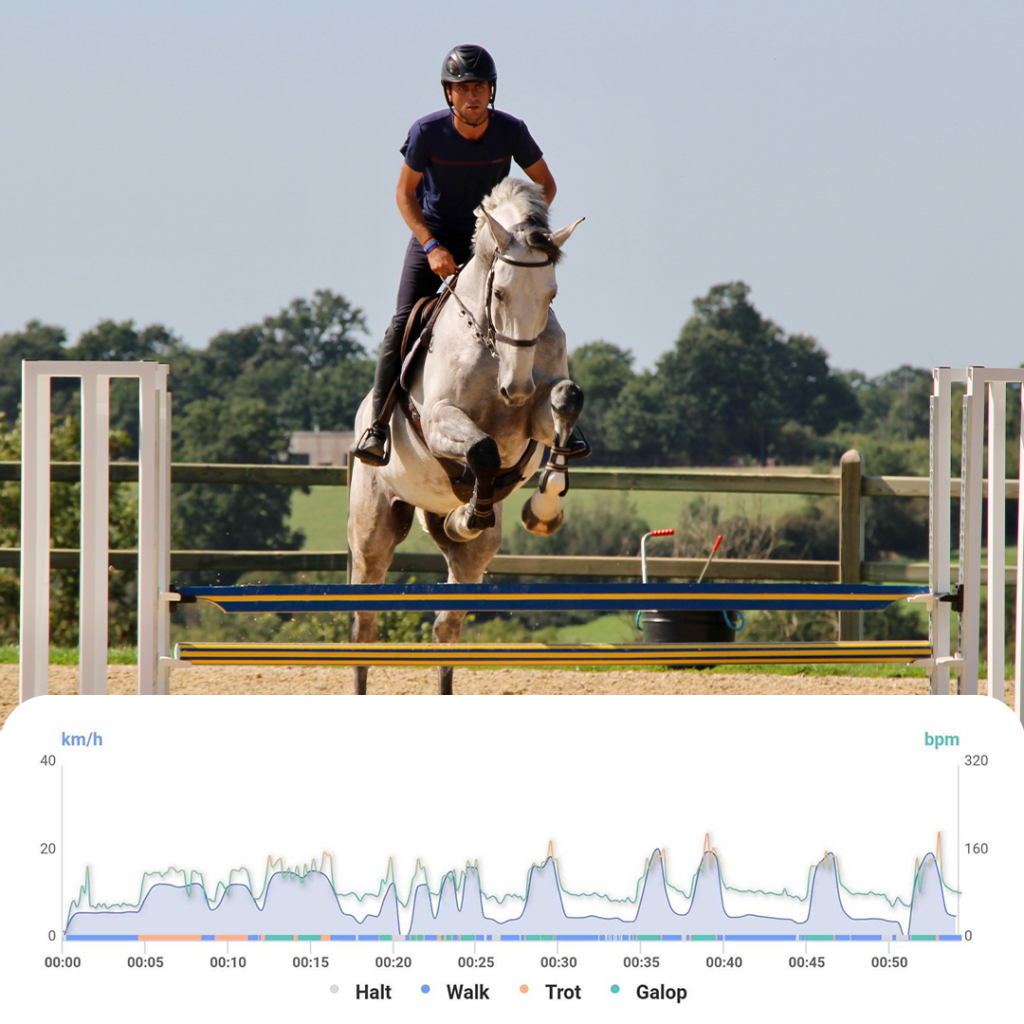 Analyze the evolution of your heart rate and of your gaits during your training.
Calories burned: 
This feature offers you the possibility to determine theenergy expended by your horse. This gives you the total value in kcal, which informs you about thetotal effort and thework intensity in kcal/min. You will also find a graph showing the evolution of the horse's instantaneous energy expenditure. 
The heart rate varies according to effort and stress, so our parameters should be cross-referenced for an in-depth analysis.
Here are the three main features available with the purchase of a CEEFIT and a CEEFIT Pulse & ECG but that's not all!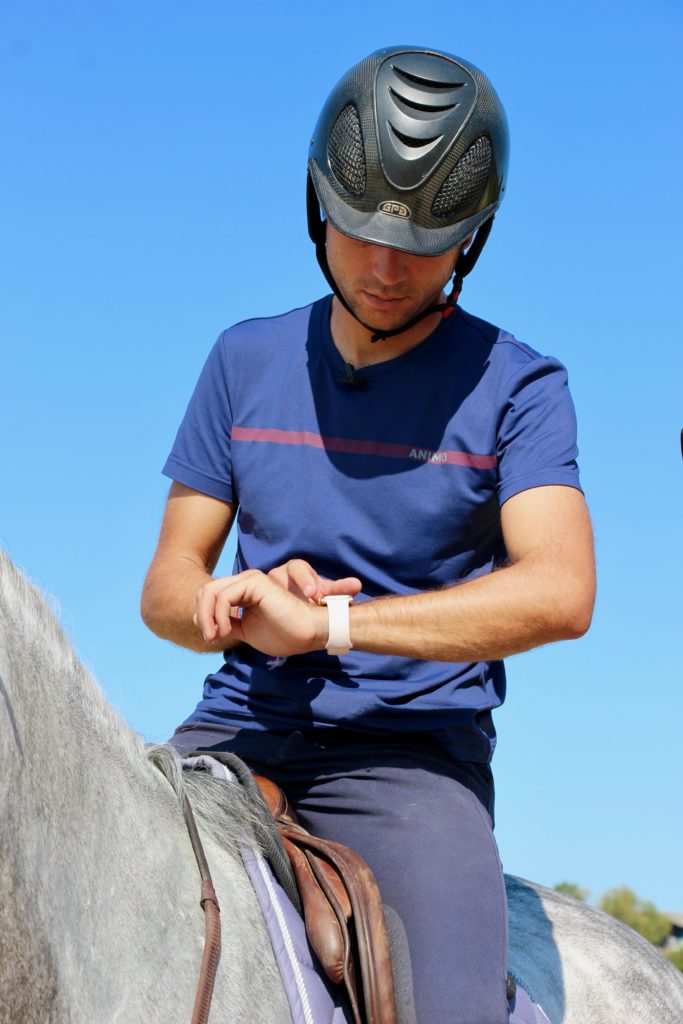 Your Seaver data in real time on your Smart watch. 
Seaver has also developed an application for connected watches. From now on, you can get your cardio and also your effort zones in real time on your watch. So, with just one look at your wrist, you will know how, for example, your horse is managing the current effort or recovering from it. 
3) SANTE+: the explanation of the Premium Seaver.
If you have CEEFIT and CEEFIT PULSE & ECG and yousubscribe to the SANTE+ subscription, you can use new and unique features on the market.
ECG or electrocardiogram and resting heart rate: 
Our CEEFIT Pulse & ECG gets its name from this feature previously only available to veterinarians.
With Seaver, you can perform electrocardiograms and obtain theelectrical activity of your horse'sheart. For example, you can detect the most common pathologies such as arrhythmias and atrial fibrillation. Moreover, you can share your ECGs with your veterinarian to establish a pre-diagnosis without having to travel. You also get your horse's heart rate at rest, an important data to compare in case of health problems.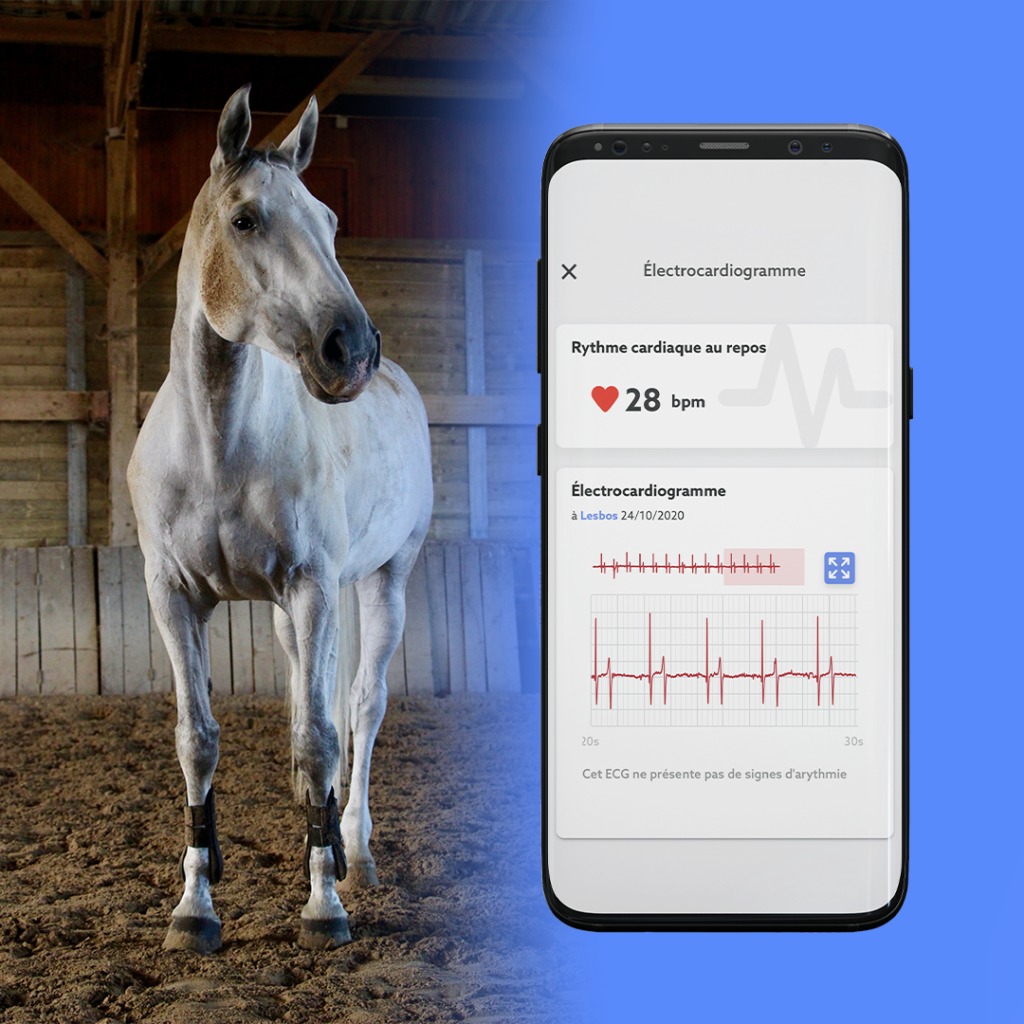 An electrocardiogram is to be carried out in the morning before any training and in a known and soothing environment for your horse.
The Fitness Shape Test: 
In collaboration with Véronique Billat, Seaver has developed a physical condition test. You will obtain an overall score and a web graph that will indicate the strengths and weaknesses of your horse. By performing this test, you will be able to concretely observe the progress or the decrease in performance of the following measures: cardio, recovery, but also strength, efficiency and biomechanics. It will be available very soon on the Seaver application. 
Stress assessment:
Based on the sudden changes in heart rate, Seaver assigns a stress score out of 100. Stress in horses can be a real discomfort. Of course, riders are looking for relaxation and serenity. They can then understand which actions or exercises, for example, cause stress peaks in their horse.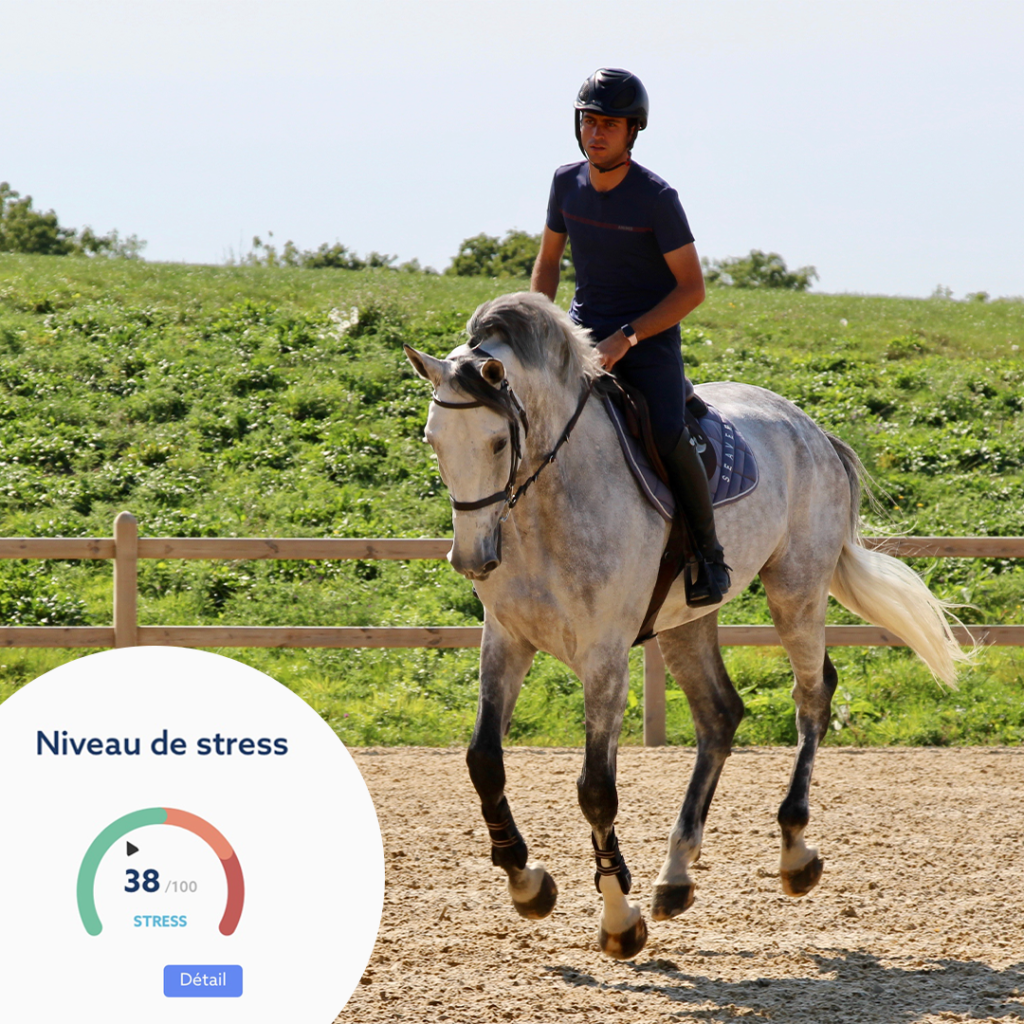 Stress in horses can also be caused by the actions of the rider, find a detailed graph in your application to analyze your impact.
Recovery time :
After an effort, the heart rate may take some time to return to standard data. When your horse exceeds 150 bpm for 30 seconds, Seaver will give you the time needed to return to a bpm of 64. This is a very revealing parameter of your horse'sphysiological efficiency.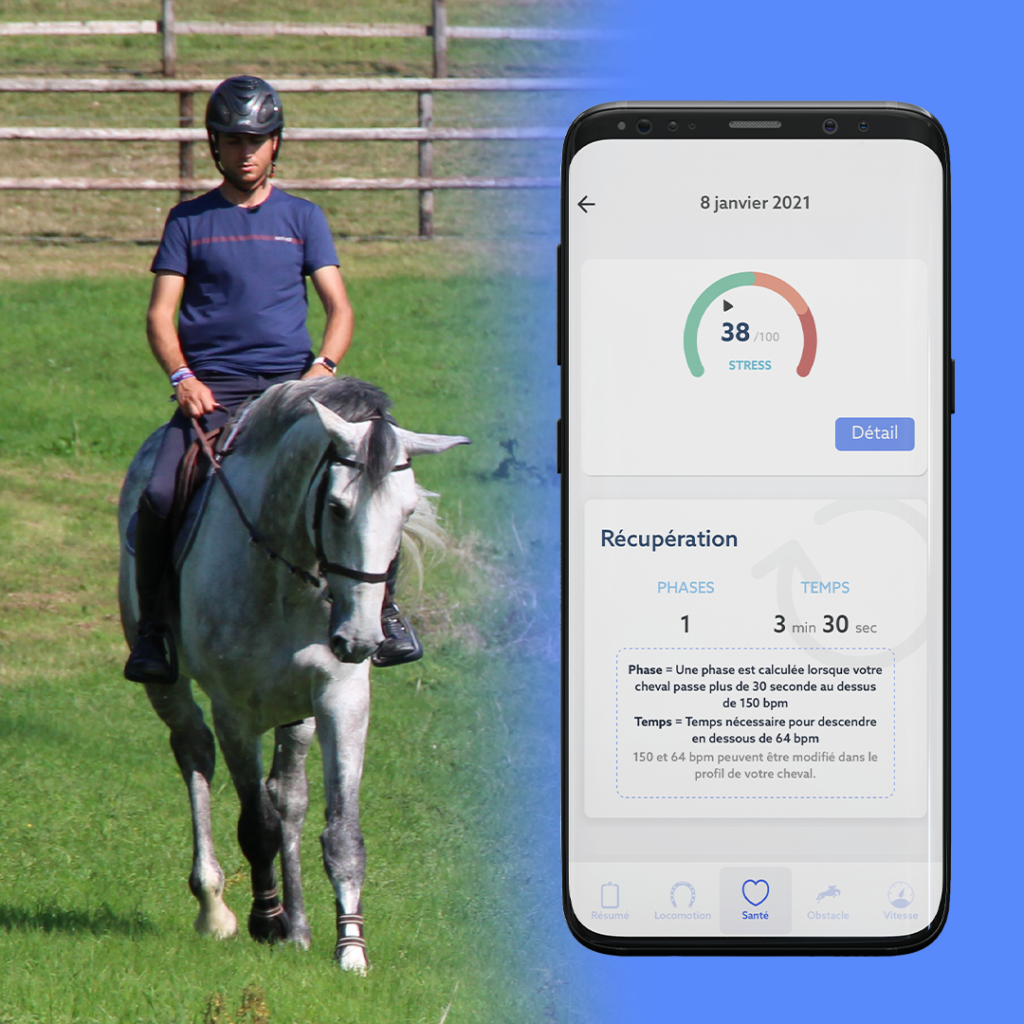 Seaver helps you understand how your horse recovers from an effort.
The V140/ V200 performance :
Seaver also helps you analyze theeffectiveness of your horse's cardiotraining. The progress will be easily measurable because these tools will allow you to know the speed of your horse at 140bpm and 200bpm. After a season of work to improve his cardio, you will obtain higher speeds for the given bpm. 
4) How is CEEFIT Pulse & ECG used? 
1. The material
First of all, you need to gather your CEEFIT Pulse & ECG heart rate belt, your charged CEEFIT sensor, your attachments and your bottle of neutral gel. You can also find our tutorial for the correct charging of your CEEFIT. 
2. Align the blue lines
Then clip your CEEFIT into your CEEFIT PULSE & ECG, making sure thatthe blue lines are aligned. If your CEEFIT is correctly clipped in, it will emit a blue light. 
3. Secure CEEFIT Pulse & ECG
Once the Velcro tab is closed for a good hold, take your fasteners. Then, attach your strap to the unit, making sure to tighten the strap and center your Seaver equipment. If you do not secure your CEEFIT PULSE & ECG properly, you may get spurious movements and therefore erroneous data. 
4. Ensure a good signal 
Then, the next step is to apply gel or water on the electrodes (and the horse's hair at the electrode's location if you use water). You can then place the electrode under the rug on the left, below the withers. Strap your horse well and launch the application, you will detect your Pulse and be able to take advantage of all its features.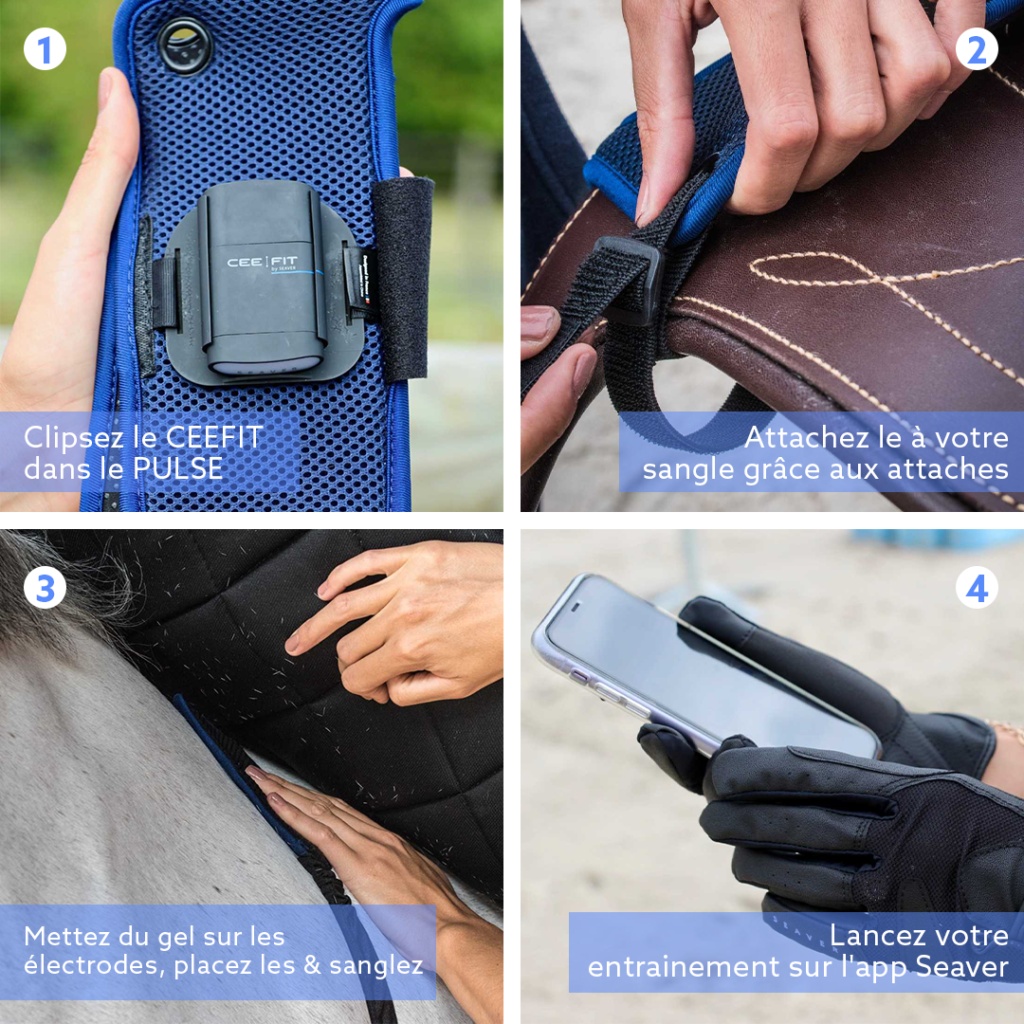 The four stages of installation of the CEEFIT and CEEEFIT Pulse & ECG set.
You will also find the installation steps of the CEEFIT Pulse & ECG in our video tutorial. 
This article resenting the CEEFIT Pulse & ECG is now coming to an end, and we hope it will help you to better understand this tool. If you have any questions, our team will be happy to answer them at help@seaverhorse.com.
Find our CEEFIT Pulse & ECG on our e-shop, here and the complete pack here.
To make sure you don't miss any Seaver news, follow us on our social networks: Instagram, Facebook, YouTube and LinkedIn.