Wednesday, 11 September, 2019
Our advice to get back to work after summer break
Summer is coming to an end, holidays are over, it's time to get back to work but you don't know where to start? Seaver will guide you to get your horse back to work after some holidays with efficiency and carefulness!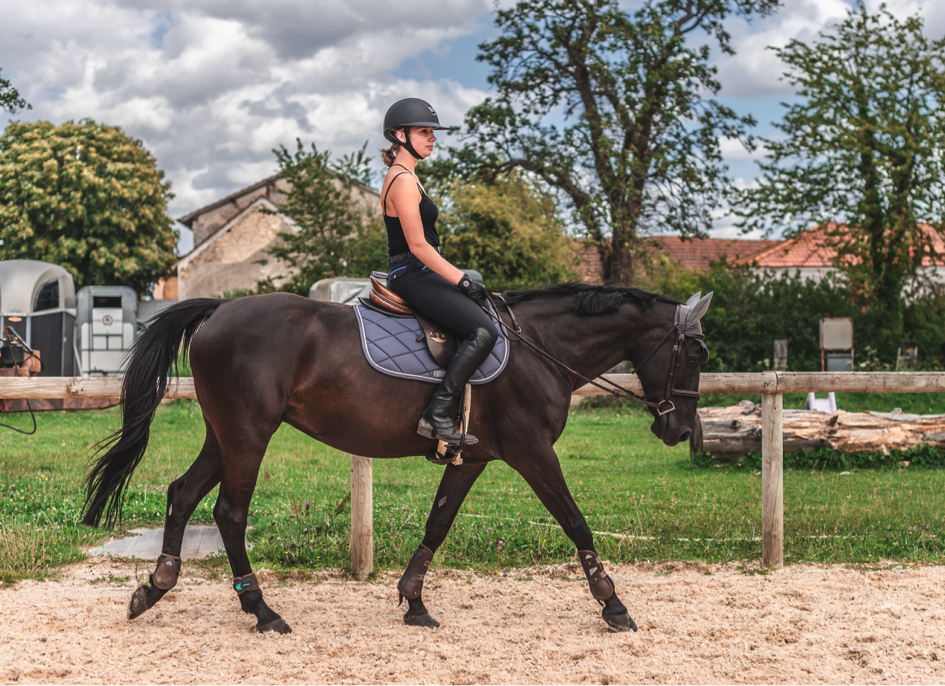 1. Check the health of your horse
After a more or less long period of rest without any real work, and before you want to get your horse back to work, you must check that everything is going well! Is he healthy? Has he become overweight or has he lost his condition? Is he suffering from injuries? Getting a horse back to work must be done gradually.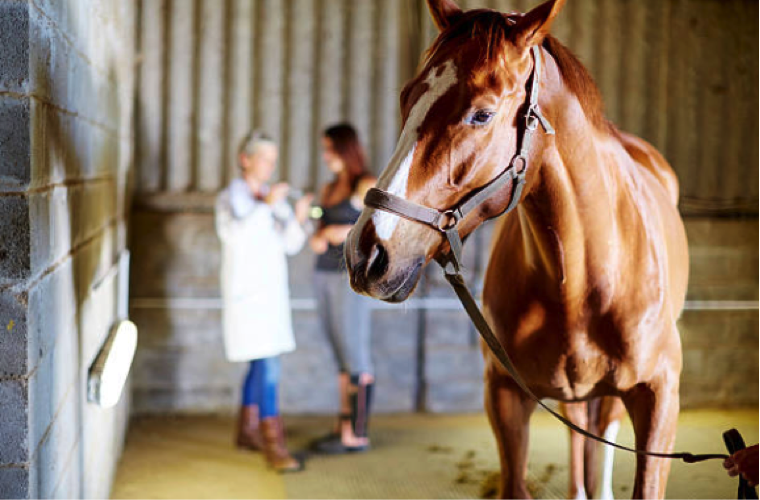 A veterinary consultation is advised to make a complete check-up and make sure that everything is all right to resume the work of your horse. A consultation with an osteopath may also be useful in preventing injury or poor bodybuilding due to potential displacement.
2. Define the pace of work
The length of your horse's rest period as well as the state of his health before starting such rest period are factors to be taken into account in determining the work resuming pace as well as the length of time required to perform this work smoothly and in compliance to your horse's well-being.
If your horse was in good health prior to the rest period and the rest period did not exceed 3 weeks, then the call-back program will not exceed 2 to 3 weeks. On the other hand, if your horse was in bad condition (injury or other) before that period, the return to work must be done smoothly over a period of 3 to 5 weeks with the advice of a professional. It is also necessary to adapt the work according to the age of your horse but also to the discipline practiced.
The pace of work is also to be adapted according to the condition of your horse. However, it is necessary to observe a certain regularity in the sessions in order to have an effective rehabilitation while favouring short sessions. Don't forget to give your horse one or more days of rest between your sessions by offering him the possibility to stretch at the paddock (if possible) or by offering him a session of groundwork or an outside hack.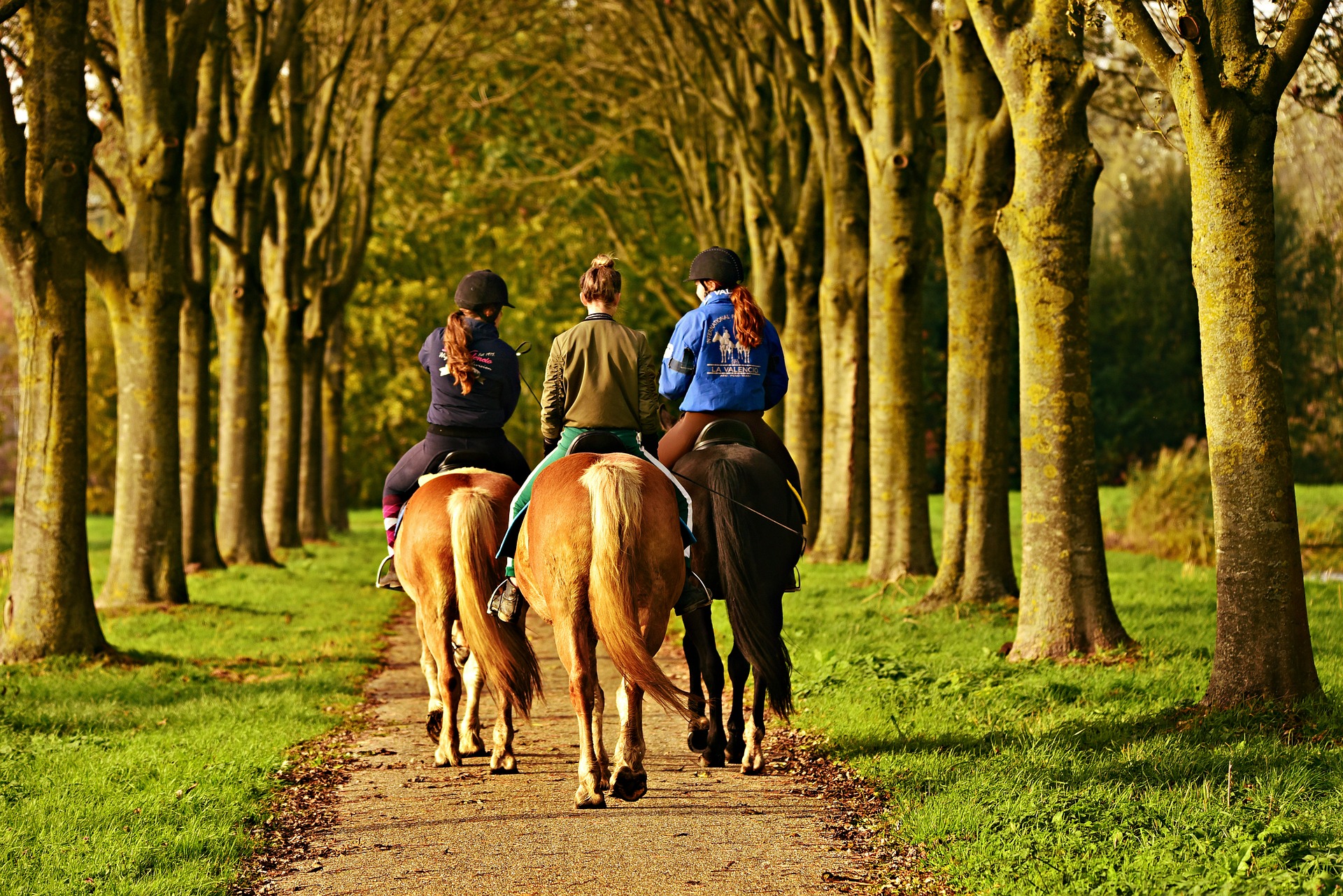 3. Groundwork: lunging and long reining
As a first step, groundwork is the best way to get your horse back to work and gradually gain strength and flexibility. A first work on the lunge both hands will allow the rider to observe the way his horse moves and to realize what is possible to do and at what pace. The lunge allows the horse to get back to work smoothly by being released from the weight of his rider.
Remember to equip your horse with gaiters (and bells) but also to equip you with a pair of gloves, a lunge in good condition, suitable shoes, a stockwhip and a helmet. First, choose to work on large circles to help your horse keep his balance and also think about offering breaks.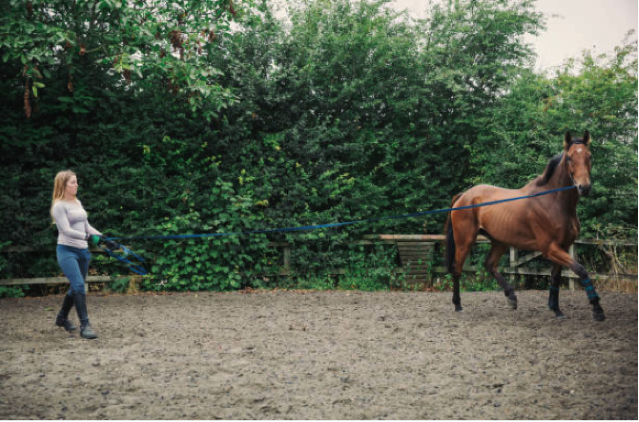 You can possibly do sessions of long reins, on condition that you know how to use them properly! Be careful, working in long reins is only possible with a horse used to it to avoid any risk of accidents. Working in long reins allows a more precise work and better control of your horse's hips.
4. Riding exercises
After a few groundwork sessions with your horse here comes the time to get in the saddle! The objective is to get the horse back to work, and some exercises may be preferred. After a basic work at 3 gaits to warm up your horse's muscles, you will be able to start mobilizing him.
Many exercises are possible, among them: lateral movements, leg-yields, shoulders-in, haunches-in, but also working the horse round and low to load the abs and the back. You can also work on transitions to check the reactivity of your horse to the aids. The goal is to mobilize your horse to the maximum (gradually) so that he gets back all his flexibility and his strength. You also need to change exercises regularly to avoid boredom and always finish your sessions on a positive note.
You can also schedule cardio work sessions, which is ideal to improve the cardio-respiratory capacity of your horse. Cardio work involves alternating efforts with recovery periods during sessions. As you do, you can increase the effort and shorten the recovery time.
Working your horse outside can also be a good alternative to keep your horse's motivation at a high level as well as yours in your fitness program! Outdoor work allows you to clear your mind and get out of the studious frame of equestrian infrastructure. Get your Seaver sensor and take this opportunity to test our latest GPS feature ☺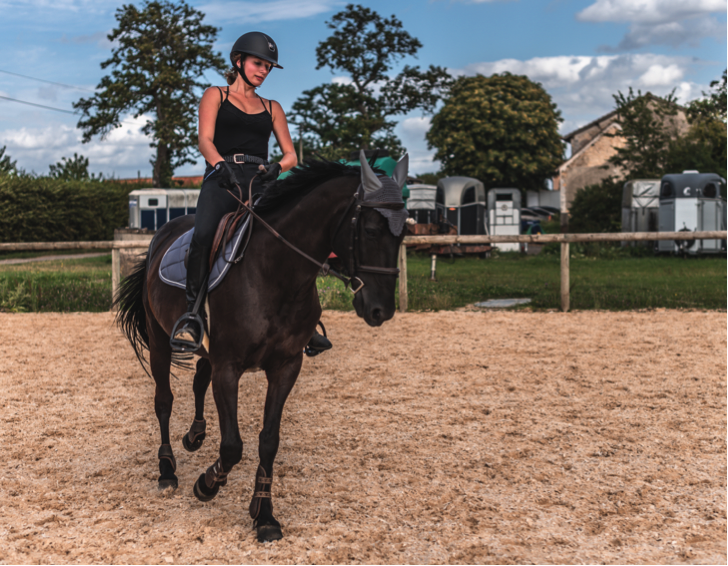 5. Implement a schedule
Setting up a work schedule for your horse will allow you to distribute your work sessions and the rest periods of your horse accordingly with his evolution. The frequency and intensity of work must increase as the horse becomes accustomed to the pace of work.
As a first step, keep your sessions short because your horse will certainly not have the necessary condition to hold a one-hour session from the first day back to work. Then you can gradually increase the difficulty of the exercises as well as the intensity of the sessions. Consider alternating groundwork, riding exercises, and outdoor work to avoid boredom in your horse. The more your schedule is diversified, the more your horse will return to a state of correct form while keeping a good morale!
6. Food supplements selected by Seaver
It is essential to adapt your horse's diet to his physical activity. Indeed, with work resumption, your horse must have a ration adapted to his energy expenditure. You can ask your veterinarian for advice if necessary. You can also use supplements to help your horse in this recovery.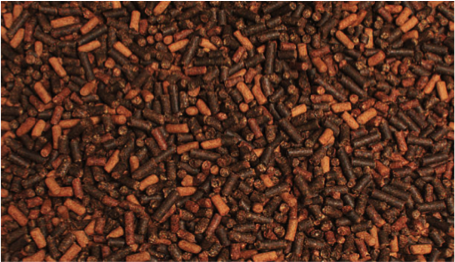 Our food supplement selection:
Spirulina: is naturally very rich in proteins and vitamins. It contains a lot of nutrients good for horses. Spirulina is an excellent protein supplement ideal for the development of horse muscles.
Electrolytes: they are excellent for the recovery of your horse after an effort and compensates for the dehydration of the horse, thus avoiding cramps.
Proferm: is a food supplement based on fermented oat bran. The combination of prebiotics and probiotics is an excellent supplement that improves digestion, good health of the intestinal flora, general condition and resistance of the horse.
7. Listening to your horse: the golden rule to follow!
Listening to your horse will constitute the basis of your fitness program. In fact, it is necessary to pay attention to the speed of breathlessness of your horse and to adapt the work sessions and the phases of recovery at walk to obtain positive results.
You can also do stretching exercises between work sessions; it will avoid many pains due to soreness and your horse will thank you for this.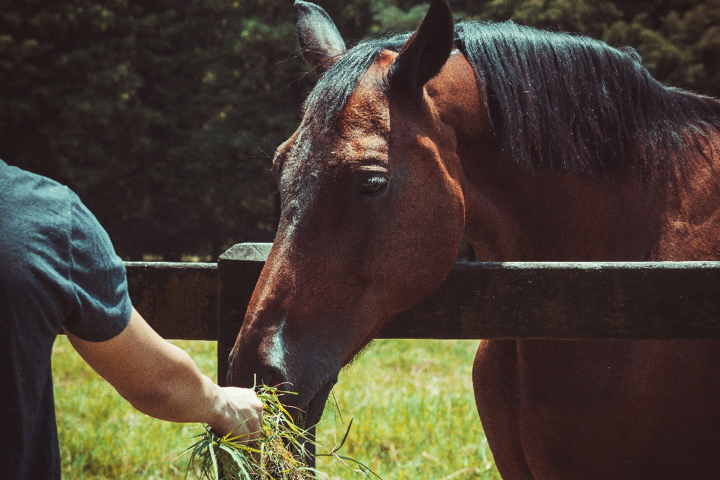 If time permits, you can massage your horse to avoid soreness, this will please him and will help you to improve your relationship. If you don't have time, a good grooming session is enough and will help improve your relationship, because the work it's not the only thing that counts! Spending time with your horse outside of work sessions is important and is part of putting your horse back to work.
Here are some exercises by Seaver to be found on the app to accompany you in the work resumption: Do not hesitate to do them 🙂
Lunging:
Flat work:
Varying the length of your strides on a line of ground poles
Shifted ground poles
Serpentine and transitions on diagonal
Jumping:
Working the bounce jump
Keep a constant canter on a line of ground poles
Gymnastic line
To download the app:
✅ iOS: https://apps.apple.com/fr/app/seaver/id1335975186?l=en
✅ Android: https://play.google.com/store/apps/details?id=com.seaver.ionicapp&hl=en_US
With you to play now 🙂
The Seaver team