Thursday, 14 November, 2019
How did I detect a start of a tendon injury thanks to Seaver technology?
Today we will share Juliette's experience who thanks to a regular use of her Seaver girth sleeve and a careful eye, has managed to anticipate a possible tendinitis on her horse.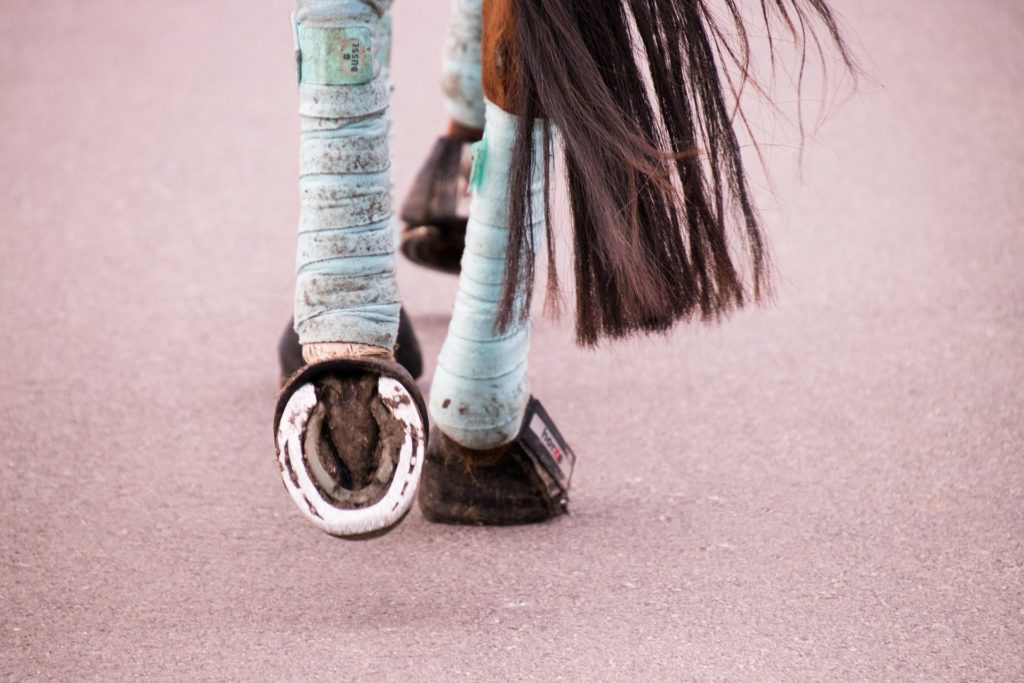 Blackhead of any rider, especially sport riders, tendon injury is often synonymous with a long period of recovery and rehabilitation when it does not unfortunately stop definitively the horse's sport career.
Known as one of the most common injuries in equestrian sports, we will explain to you, through this user experience, how it is possible to prevent this kind of wound before seeing the actual clinical symptoms (lameness, hot and painful leg engorgement, ...). In the case that you will discover, it was about a fatigue injury. Other types of injuries, or contexts in which the injury occurs, can unfortunately not be anticipated with Seaver. Your girth (or girth sleeve) will be helpful in supporting the veterinarian's protocol for rehabilitation and identifying possible post-traumatic pain.
1. First of all, what is tendon injury on horses?
First of all, tendons are fibrous structures acting as a buffer between muscles and bones. With little vascularity and little extensibility, they are seen as one of the weak links in the musculoskeletal system in horses.
Like for us, a tendinitis is a partial or total rupture of the collagen fibers composing the tendon. Characterized by hot and painful leg engorgement, sensitive palpation and lameness on soft grounds, this injury is often detected at an advanced stage, when the horse needs rest to recover. This period can go between 3 and 15 months according to the pathology identified. The vet establishes his diagnosis thanks to a clinical exam and an ultrasound. The sporting career depends on the seriousness of the lesion, the impacted tissues and also the respect of the protocol recommended by the vet (cares and rehabilitation).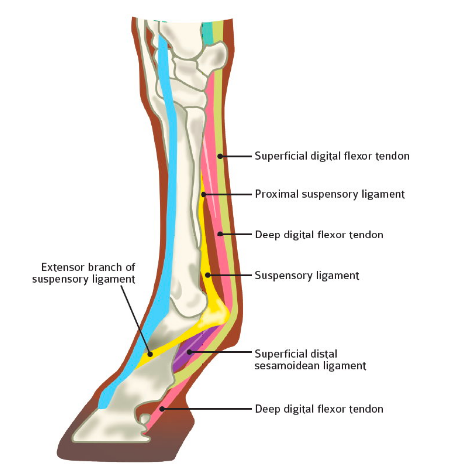 The problem when such an injury occurs is its possible recurrence... The scar tissue is stronger than the original one but less elastic and the transition area between these two tissues is fragile. It is therefore important to follow up and provide specific cares after efforts to minimize the risk of a new wound.
2. What are the tendinitis main causes and how to prevent it?
To date, there is not a miracle cure. However, some important factors to consider can help you limit the risk:
Certainly the most important: the

work area and the ground quality

: it needs to be neither too hard nor too soft (deep) with regular maintenance.
Do not neglect food: an overweight horse will have his tendons permanently solicited, even more during work, which will make the tissues vulnerable.

Leg faults

due to a conformational problem or shoeing (or trim) not suitable for the horse body and/or activity

Repetition of efforts

with little or no care provided to facilitate recovery.
You should also know that there are 3 kinds of tendon injury:
Fatigue injury: seen on horses with an intense activity that is not appropriate to the absorption capacity of his tendons. Healing is mainly done by resting.

Degenerative lesions

: seen mostly on adults or elderly subjects. Tissue degeneration cannot be stopped and the healing process is difficult. In this case, rest is also recommended but in the goal to relieve and not regenerate.
Leg faults: due to a bad conformation, the horse presents a physical asymmetry imposing him a leg overload inducing chronic tendonitis.
With regular use and special attention to the data collected as well as your horse's physical condition, Seaver can help you anticipate fatigue injuries. However, for the two other kinds of wound, your device supports you in detecting unadapted efforts and/or identifying pain.
3. The case of Juliette and her mare
Juliette is the owner of an 8yo mare competing in 1m30-1m35 jumping classes. She bought her when she was 3yo and has always paid attention to her physical condition and well-being. That's why she decided to use Seaver technology to get an accurate comprehension and follow-up of her mare.
She started to use the girth sleeve in July for each training (riding & lunging). Hence, she got average data for the cardio, symmetry, elevation... What she focus most about, though, is the cardio and trot symmetry. Here is for example the symmetry data she provided us reflecting her first month of use: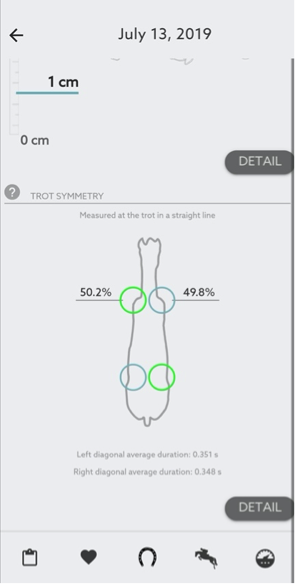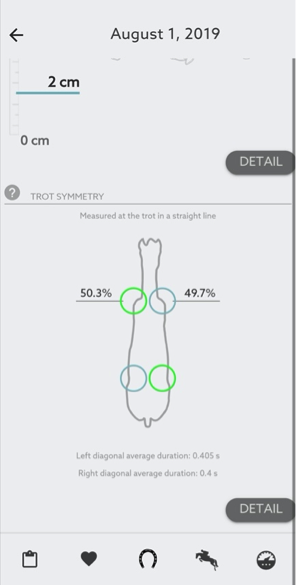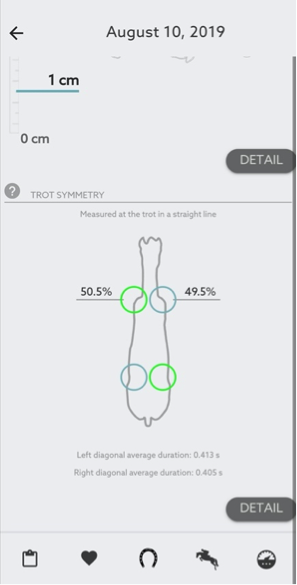 We can see that the data are regular and constant. On August 11th, Juliette observed a slight change of the symmetry: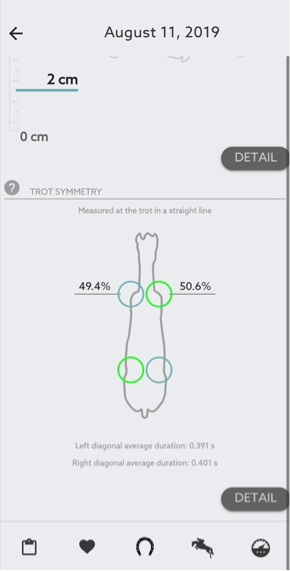 Nothing to be alarmed of but this user told us that she was very attentive to details. So, she decided to try a program alternating ridden work and rest days outside.
A week later, a professional rider rode the mare and Juliette looked her training. She wanted to determine if the previous data collected needed to be taken into consideration or not. It was certainly the case: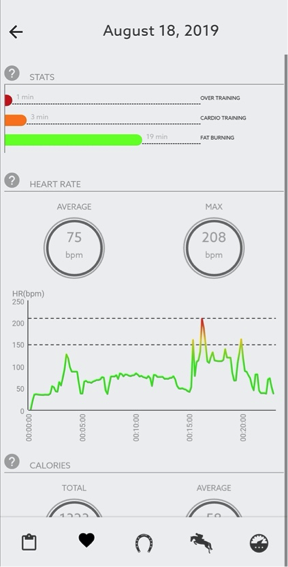 After a long period walking, the rider decided to take the trot but the mare decided to canter on the right. Immediately Juliette saw that something was wrong with her mare's reaction and asked the rider to walk only. They looked at the heart rate evolution once back to the stables and saw an important peak matching with the single canter depart.
Once back at the stables, the mare was controlled but shown nothing abnormal: no pain, no lameness (on hard or soft grounds), no leg engorgement and same behavior as always.
In the following days, the work was light and no particular pathology signs appeared. But the data decreased each day: trot symmetry, high heart rate values only when cantering on the right leg at first and to finish with high heart rate at trot and canter the next day. The vet was called to control the mare.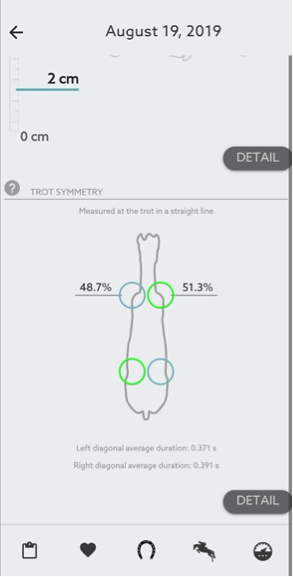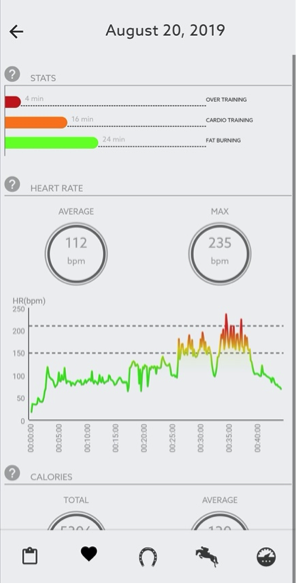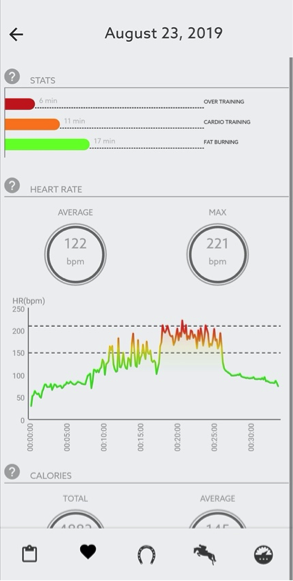 Juliette insisted on the fact that when she asked the vet to come checking her mare there was no external injury sign. She only put bandages on forelimbs and let the mare rest while waiting for the vet to come.
On the day of the appointment, nasty surprise: after taking off the bandage on the right forelimb, the leg was big, hot and painful. The vet arrived one hour later, did a clinic control where he saw no lameness on hard and soft ground, just like Juliette previously discovered. An ultrasound test was made and after many minutes of research, the diagnostic was pronounced: a micro lesion on the right forelimb suspensor. Three weeks of walking and bandages soaked with natural anti-inflammatory medicine, a 2nd ultrasound test to control following this recovery period and a light rehabilitation were recommended. The vet was not worried but surprised by this early detection.
Even if we all prefer a healthy horse, Juliette was delighted with this diagnosis because she thinks that without Seaver she would have continued to work the mare as usual asking for demanding efforts that would certainly have pushed her to an injury and therefore to at least 3 months of rest and then rehabilitation. Since then, the mare has resumed work and the early management of this first-stage injury helped reducing the risk of a new injury.
Thanks to Juliette's story, you can see that Seaver is a real prevention tool. The regular use of your Seaver product can indeed help you prevent certain types of injuries that you want to avoid and which are unfortunately very common on sports horses.
Feel free to share your own experience with all the Seaver community and us 🙂
See you soon for a new article,
Seaver Team
1. https://www.medrego.com/3-common-equine-tendon-ligament-injuries-and-ways-to-treat-them/